Home
» Mahatma Gandhi - Mohandas Karamchand Gandhi - Biography
Mahatma Gandhi - Mohandas Karamchand Gandhi - Biography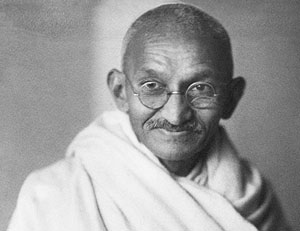 If a man can unquestionably to be an incredible one both in the political as well as personal life, that man can be treated as a demigod especially in a country like India. Mahatma Gandhi is one such human being. From Mohandas Karamchand Gandhi to Mahatma Gandhi, the journey has not been an easy one and has an impeccable effect on every individual of the country who read and followed his path. From sending back the English to where they belong, to the formation of new leadership structure in the country, Mahatma Gandhi had impressed his own ideals thereby shaping up the character of struggle for freedom to form an independent India.
Early life
Born to Karamchand Uttamchand Gandhi, a diwan (Chief Minister) of Porbandar State and Putlibai on October 2nd 1869, Mohandas Karamchand Gandhi was termed as he was always like as restless as mercury. He always used to play around or keep roaming, never seemed tired and has this ultimate zeal of experimenting nature in his mind and a great deal of enthusiastic twinkle in his eyes. As his sister describes in a funny way, one of his favorite pastimes was twisting dog's ears. This may sound as ridiculous as it seem to be, but one can never estimate the wonders that a child could create out of being unimaginably stupid to unquestionably incredible and ideal. In his childhood, the two most popular Indian classics such as the stories of Shravana and Harischandra influenced him a lot and left a great impact on his character.
Education
Gandhi was ten year old when he first joined the school. On January 21st 1879 he joined in a very small school in the local district school in Rajput which is not too far from his home. He was taught the basics of the first principles of arithmetic, geography, the native regional local language Gujarati and history. Before any remarkable achievements were seen in his early life of education, he was made to marry Kasturiba at the age of 13, a child marriage that was the tradition in that community at that time. Though they get married, they will be made to live separately for a particular period of time. At the age of 15, Gandhi became a father but unfortunately the baby could survive only few days. Gandhi was in middle school at that time. The marriage life had shown its impact on his studies. From what could be an incredible student, he became a normal student not showing many miracles in his academic career. He used to have very bad hand writing. His English used to be good and he performed well in arithmetic but he always found it difficult to perform well in Geography. After passing matriculation in the year 1887, the family wanted him to pursue Barrister, which was much needed to occupy his father's place. Ironically by that time, Gandhi had four children too.
Impact of Barrister Study
Gandhi travelled to London, England in the year 1888. With the intension of become a barrister, he joined the law and jurisprudence near the inner temple in London. At this point of time, Gandhi has become a member of the Theosophical Society that was founded in 1875 and later on termed for Universal Brotherhood. This influenced him to follow Buddhist culture and Indian literature, in the field of mythology. Gandhi was never interested in religious aspects before, until he was made to read the holy Bhagavad-Gita both the translated as well as the original versions which influenced him to have a clear opinion and principle on religion. In June 1891, Gandhi left London after finishing the Barrister. He learnt that his mother was died and this news was kept as a secret. After reaching India, he tried to put up his own practice of law in Bombay but he was unsuccessful due to the psychological pressure he underwent about his mother's death. He was never able to cross question the witnesses produced by the prosecutors. He couldn't earn a good defense lawyer credit. In the year 1893, he accepted a legal contract from the Dada Abdulla and Co, which is an year long in the colony of Natal in South Africa, which was then a part of the British Empire.
Life in South Africa – A twist in the Tale
Gandhi was merely in his twenties when he entered South Africa. In the city of Pretoria, Gandhi started working as a legal representative for the Indian based Muslim traders in that city. The twenty four year old Gandhi faced discrimination by the white people. The famous incident of Gandhi being thrown out of the train at Pietermaritzburg was a dark spot in the history which lead to the movement of equal rights that went against racism. He was then allowed into the first class category of the train after a strong protest. On refusing to move to make some space for a European passenger in the train, he was badly beaten by a driver. Later on, he faced many other similar hardships in his life which included barring him from many hotels too. One more incident of the Durban court ordering against his appearance and clothing by asking him to remove the turban says it all that Gandhi went through real tough time. He rejected doing so which made him a social activist. He stood against all odds and slowly turned out to be a leader in fighting against all sorts of racism and inequality in a peaceful manner. In this process, he totally lost touch with what is happening in India and later on he realized that there has been a tremendous change in the religious and cultural life in India.
Struggle for Independence
Gandhi joined in Indian National Congress and got introduced to the issues that were being faced by the country at that time, people and the politics by the prominent leader Gopal Krishna Gokhale. After taking the leadership in the year 1920, Gandhi went on escalating the demands to the existing rule and one fine day on 26th of January 1930, they declared Independence. British rule didn't recognize this and they declared war on Germany later on without consulting the current rule at that time. Gandhi then withdrew the support which was a huge blow to the British rule. In August 1947, British separated India and Pakistan and declared independence, allocating a separate state to the Muslims.
Different Movements Lead by Gandhiji
There are mainly five prominent movements that were lead by Gandhiji that brought a tremendous change in the lives of people under the British rule. The Champaran and Kheda Satyagraha which was a movement against the British landlords, the Khilafat movement against the status of caliph by Muslims, The non cooperation movement to bring non violence that reduces all sorts of religious and economical inequalities between the people, The salt satyagraha ( Dandi march) which is against the tax system which was unbearable at that time by the British rule and finally the Quit India movement in the year 1942 which was a civil disobedience movement. This particular movement raised the slogan Do or Die, which called for a great deal of strength and Zest that collectively rooted out the British rule.
Conclusion
On his way to a prayer meeting on January 30th 1948, Gandhi was assassinated by Nathuram Godse. Gandhi was termed "The father of the Nation" on recognizing his efforts in forming independent India. His birthday October 2nd is declared a National Holiday as a tribute to the legendary.