The legendary Dhirubhai Ambani Biography Childhood to brilliant businessman
Childhood
Dhirajilal Hirachand Ambani was born on December 28th, 1932 at Chorvad city which is a municipality in Juganadh District in Gujarat, into a Modh family. His father's profession is a school teacher who worked for a very nominal salary that never had proper timely reception of money. It is not ironical but could be funny to say that Dhirubhai Ambani started his business prospect and entrepreneurial skills by selling bhajias in the weekends when he was a kid over the weekends to the pilgrims at the Mount Girnar. Girnar is actually a collection of mountains in the Juganadh District which is actually located at around 327 kilometers from the heart of the Ahmedabad city which laid the stepping stones of success and paved a way for the business future of Dhirubhai Ambani. At the age of 16, Dhirubhai Ambani moved to Aden in Yemen after finishing his matriculation. For a long time, he worked there as a gas station attendant and then moved to a gas station company and placed as a clerk. After earning enough money, he came back to India in the year 1958 and invested around 50,000rs to set up and establish a trading company in regard to the textiles. After that, he was assisted by two of his sons Anil Ambani and Mukesh Ambani to build the India's largest private sector company that stood as its first page in the history of Indian economy and business, The Reliance Industries in the year 1966. It's not just a normal business firm or a tiny company that just stood for a longer time as the way it started from the scratch. Over the period of time, The Reliance Industries showed their interests in expanding their business from Textile industry to a variety of fields.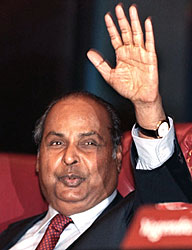 Petro Chemicals: There was a huge buzz of astonishment in the field of marketing and business trends when Dhirubhai Ambani decided to deal with the petro chemical thing as one of their main businesses. Later on, it proved to be really an impeccable step in expanding their territory in private business.

Telecommunications: Even till today, the Reliance telecommunications play a major role in contributing to the industry's economy and in its profits. A wide range of landline and mobile services from the telecommunications are available in the market that paved a way for the reliance industries to earn considerable profits and make their business prosper well.

Information Technology: Though the Reliance technologies did not show an impeccable effect on their economy in the field of technology and software advancement, it almost stood as a mark of great competitor to the then prospering businesses such as Wipro, Tata and other companies that were declared public after prospering well in their respective business relating to the field of information technology. Even till today, reliance information technology constitute for a small portion of the economy of Reliance industries.

Energy: Reliance energy is an integrated private sector power utility company in India. The network spans over 400 sq kms which is vast and has an incredible source of income to the Reliance group of industries being a private and an informal competitor to the government's power supply aspects. So far, Reliance energy industry accounts for almost 3 million customers in Suburban Mumbai and is well known for its uninterrupted quality of energy supply.

Textiles: Reliance textile industry is the basic building block of all other business in the Reliance industries. The first and the foremost business Dhirubhai Ambani has set up when he wanted to prosper as a private sector in India after returning from other countries was this textile industry. This has emerged out to be one of the most modern textile complexes in the world.

Infrastructural Services: The reliance infrastructural services account for progressive energy generation, better roads for a developing India, Enterprising power transmission, expanding metro coverage for urban India, energy trading and airport developers. It is unbelievable that the reliance infrastructural services offer high class business infrastructures to the business districts with top notch facilities putting it in an extremely classy form of business.

Capital Market: Having the interests in asset management and in mutual funds, Reliance capital market has its own favor on being India's leading and amongst the most valuable figuratively interesting and incompetent financial service companies in the private sector. It has got a net worth of about 13,156 Crore, (US $ 2.1Billion) which suggests its huge impact on their income as a whole.

Logistics: Reliance logistics are famous for their trouble free movement of goods from local level to up to an international level and has their name for their quality of service. The profits earned out of this constitute for a considerable amount of overall turnover of the reliance industries.
Dhirubhai Ambani's impact on the country:
It is not just India, but the entire world moved their heads and looked upon this brilliant businessman at one point of time. Dhirubhai Ambani is credited with the most impeccable person in shaping up India's equity culture and stand as the most respectable business personal. He had attracted lakhs of retail investors in the market which were till then dominated by the financial investors. He actually completely revolutionized the capital markets. From absolutely nothing, he actually generated Crores of rupees to all those who had their trust on this industry and put their interests and shares into his businesses and never ever disappointed any of his consumers and stake holders at any point of time. In early 1980's, reliance became the most favorite of the stock market after their revolutionary invention of innovative ventures like convertible debenture instrument. Reliance became the first business to take on charge in raising money over the internationally standardized global markets only by Indian sovereign rating at any point of time. Dhirubhai Ambani expired on 6th of July, 2002 in Mumbai.