Home
» Biography of Jamsetji Tata
Jamsetji Tata Biography - Father of the Indian Industry
Childhood and Education
The only businessman who earned the life of a Zoroastrian priests belong to a Parsi family was born as Jamshetji Nusserwanji Tata on March 3rd in the year 1839. He was the son of Nusserwanji Tata and Jeevanbai Tata. In order to carry on with his ultimate passion for business in the city of Mumbai which is called as the Manchester of India, Nusserwanji Tata moved out of his family along with his wife Jeevanbai Tata. He did quite well in his business and shaped up his survival in the city well after starting as a small trader. When Jamshetji finished his graduation, he was declared as the finest student the college has ever seen by that time, and the principal of the college was so impressed that the board decided to give back the fees his parents have paid for his studies at Elphinstone College in Mumbai. Such was his brightness as a student not just in academic performance, but also his interest in extracurricular activities in the college. When he was 14, he initiated this trading thing and started implementing business aspects even while studying. When he turned 16, he married a 10 year old girl named Hirabai Daboo, since child marriages was quite a common practice in those days. He joined in his father's trading firm after graduating from the college in the year 1858. Since the British Government had just did suppress the Indian Rebellion of the year 1857, Jamshetji Tata's step to step into his father's business had been considered as the most daring step since it was too turbulent a time in that tight situation.
Shaping up the career as a Businessman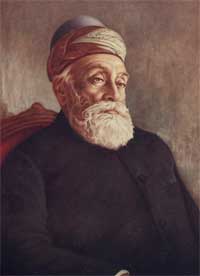 Even though Jamshetji Tata started the basic trading aspects in his life in his extremely young age of 14, he never did leave a tremendous impact or an unimaginable growth until he finished his graduation in the year 1858. At the time of Sepoy mutiny in the year 1857, it was extremely difficult to go ahead with the export business since the prosperity of the business and the growth of economy of the country was greatly affected due to the suppression of the evergreen business prospect of the country by the British Government. It was a scary step to start the business at that point of time and nothing did actually trouble Jemshetji's passion to get along with his father in the family business. Even at that point of time, Jamshetji Tata's father gave him a task. He was sent to Hong Kong on a mission to expand their business and put their investments in that country. To everyone's surprise, he accomplished the mission very successfully in a very less time. He then stayed back in Hong Kong for close to four years which was a great deal of a trial to fulfill his father's dream of establishing a business branch in that country and prosper well by setting up a Tata & Co. branch over there. This very step is the basic building block of the then emerging Tata businesses to go for an international level and expand the Tata empire business throughout Asia for creating the formula of what is said to be a crucial moment in the Tata businesses, establishing Tata & sons.
To everyone's surprise, Tata and sons had their branches not just in Hong Kong, but also in China and Japan by the year 1863. After that, the Tata family wanted to spread across Europe and Jamshetji travelled to England. But unlike in other Asian countries, Jamshetji couldn't receive a desired welcome from the European country. The idea of setting up an Indian Bank in England to focus on the economic sector was proved to be a costly affair and a big blow to their business since the financial situation in the markets was fluctuating at that point of time with no regular trend to observe and keep an eye on, to follow up and hence, all the Tata companies located in India and all other Asian countries faced a huge loss after completely failing in establishing and setting up the idea of Indian Bank all over the countries.
Further growth in Business and career turns
After working with his father until he turned 29, Jamshetji Tata started his own business trading firm and this was the most crucial turn of his business career. During this time in the year 1868, Jamshetji Tata acquired and established so many cotton mills on his own. In the year 1874, Jamshetji bought and set up the Empress Mill in Nagpur, and it made him pocket a huge amount of money and a great raise in his treasury. All the mills be bought made unimaginable great amount of money and hence later on Jamshetji sold off all the mills that be bought with much more price making his actual treasure double than what he actually has till that point of time. The cotton that was processed in his mills and those textiles were exported to major parts of the world like China, Japan etc and also extended this export business to almost all the Middle East countries. The Tata industries were well known for creating the best working environment for their employees counting in every tiny aspect the workers are undergoing and prioritized the welfare of the workers at every single point of time. After that, Jamshetji travelled to America and Europe to gain the domain knowledge and educate himself on the production and business of steel. Every now and then he went on upgrading himself to the changing trends in business and made his mark in the financial world. Sadly, he was not alive by the time the Tata group of industries established Iron and Steel plant in India which was his dream when he left for America and Europe. He died on May 19th, 2014.