Vibrant Gujarat of Gujarati Community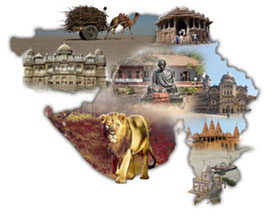 Gujarat name of the state, came in to existance from Dwibhasi Rastra (current Maharastra and Gujarat). Gujarat and Mahararastra come into existance by division of big state in 1st May 1960. Gujarat is a result of Bombay Reorganization act 1960. Since 1960 Gujarat has made significant achievement towards providing batter living place in India. Gujarat earn hightest GDP over any other state of India.
The history of the west coast state of Gujarat goes back to over 2000 years. Gujarat has been ruled by various kingdoms like the Mauryan, Gupta, Patihara, Chalukyas and others during its long history. During the rule of the Chalukyas, the state witnessed tremendous progress and prosperity. Despite the plunder by Mahmud of Ghazni, the Chalukyan kings were able to maintain the general well being of the state. Gujarat was also a bone of contention between the Mughals and Marathas. The state is also inextricably linked with the life of the father of the nation, Mahatma Gandhi, as he was born here, and spent his early years here. He came back from South Africa to Ahmedabad, one of the major cities of Gujarat, to wage his long struggle for independence against the British.
Land of the Legends
It is not unknown by any Gujarati about Legends of Gujarat. There are many legends have been produce by Gujarat for making India batter.
Inspirational Characters from Gujarat
Literature:
Krishna
Hemchandracharya
Mira
akho
Premanand
Narsinh Mehta
Religion & Meditation:
Swami Sahajanan
Dayanand Saraswati
Shrimad Rajchandra
Pujya Mota
Ahmed Shah
Arts:
Maula Baksh
Ustad Faiz khan
Omkarnath Thakur
Ravishankar Raval
Jayshankar 'Sundri'
Research and Science:
Dr. Homi Bhabha
Dr. Vikram Sarabhai
Rubin David
Tribhovandas Gajjar
Salim Ali
Industries (Mahajans):
Vastupal Tejpal
Premchand Raichand
Jamshedji Tata
Kasturbhai Lalbhai
Gijubhai Badheka
Social and for Country:
Dadabhai Navroji
Mohandas Karamchand Gandhi
Ravishankar Maharaj
Indulal Yagnik
Shyamji Krishna Verma
Sports:
Jam Ranji
General Rajendrasinh
General Manekshaw