Home
» Namo Introduced Report Cards for Ministers and Govt Departments
Namo Introduced Report Cards for Ministers and Govt Departments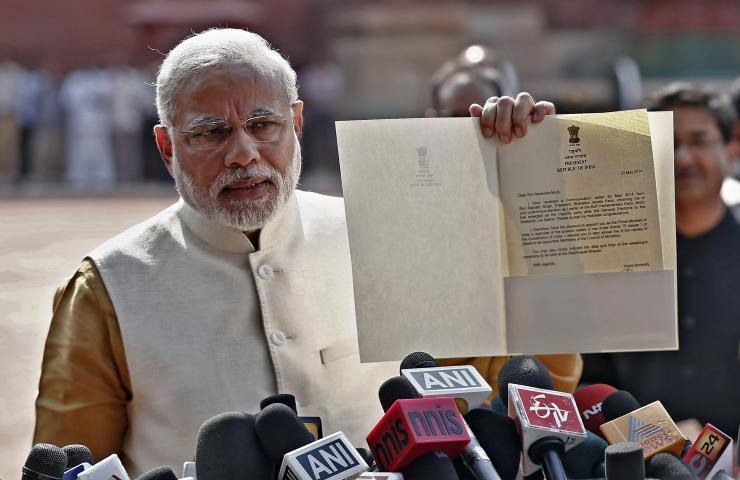 Prime Minister will present report card from ministries ahead of PM Modi's Independence Day speech - First time in Indian History like emoticon
It's report card time and ministries and departments that had a mention in Prime Minister Narendra Modi's Independence Day speech last year are rushing to show action on the stated agenda. Ahead of Modi's second address to the nation on August 15, the Prime Minister's Office has written to all ministries and the NITI Aayog to furnish details of progress on the commitments made last year.
The PMO has also asked all ministries and departments to identify five major activities, explaining in not more than 250 words each, on how these could make a difference to the lives of the people.
The letter suggests that Modi's second speech from Delhi's Red Fort will focus in equal parts on the initiatives and achievements of his government over the past one year and what lies ahead.
"It is requested the Aayog/ministry furnish a tabular statement on the announcements made by PM during the previous Independent Day address (ie on 15.08.2014) and the status of their implementation thereof," the PMO said in the letter.
Consequently government officials across ministries that had found a mention in the Independence Day address are going through the PM's speech to prepare the progress report in line with the key programmes announced last year. In a hard-hitting speech, Modi had said, "The meaning of democracy is not just limited to electing a government, but its meaning is that 125 crore of citizens work together joining shoulder with the government to fulfil hopes and aspirations of the country, this is the meaning of democracy."
Some of the key announcements by the PM last year on the 68th Independence Day included the launch of Pradhanmantri Jan-Dhan Yojana related to finance ministry, the Skill India Mission under the ministry of skill development, the Make in India initiative under the aegis of the Department of Industrial Policy and Promotion, the Digital India drive under the ministry of IT and telecommunication and the Clean India Mission as well as the Sansad Adarsh Gram Yojana under the rural development ministry. The government has already notched up a few success stories for the PM to show off. For instance, 16.73 crore Jan-Dhan accounts have been opened so far, bringing lakhs of people into the financial inclusion fold. Besides, work is on overnight to construct a toilet in each school to meet the August 15 deadline. The PM had in his speech last year also announced setting up of a new institution that would replace the Planning Commission.
The government fulfilled this promise, setting up on January 1 the National Institution for Transforming India or NITI Aayog, a think tank chaired by the PM.
The ministries will also have to identify the agenda for the coming months and year.