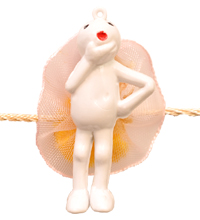 ZooZoo Rakhi for Kids
Item#: IGTI_S8
Availability:

Retail Price: $8.36
Your Price:
$3.70
You Save: $4.66
ZooZoo Rakhi for Kids
If your little brother is fond of ZooZoo, then sending him a ZooZoo Rakhi is a bright idea!
This ZooZoo Rakhi represents ZooZoo - popular advertisement character.

This cute ZooZoo rakhi for kids is adorned with a motif of ZooZoo.

The ZooZoo motif is adorned with a baby pink colored decorative item and a yellow fluffy decoration, on a light colored satin ribbon.
"